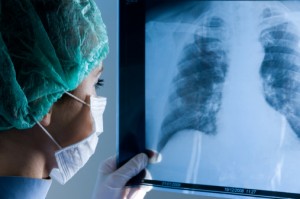 April 26, 2011
New blood tests to bring new health solutions to combat global burden of COPD
Vancouver, BC, Canada – The PROOF Centre of Excellence is working with GlaxoSmithKline Inc. on one of the world's major killers and the leading cause of hospitalization in Canada – chronic obstructive pulmonary disease (COPD) exacerbations (i.e. "lung attacks").
Drs. Don Sin and Wan Tan of the University of British Columbia and St. Paul's Hospital will be leading the PROOF Centre in a multi-million dollar program to discover and develop new tools and biomarker blood tests to help clinicians predict which COPD patients will experience life-threatening "lung attacks." GSK is providing biological specimens and clinical information collected from a subset of the ECLIPSE Cohort–a three-year, global, multi-center study, involving over 2,000 COPD patients (www.ECLIPSE-copd.com).
COPD is a serious lung disease that makes it hard to breathe. It is estimated that 210 million people have COPD worldwide and over 1.4 million in Canada. The disease kills one person every ten seconds. COPD exacerbations, often referred to as "lung attacks," are a leading cause of death for people with COPD. Similar to heart attacks in cardiovascular disease, lung attacks can permanently damage the lungs. In Canada alone, the direct costs related to COPD exacerbations are $736 million a year. Hospital admissions for serious COPD lung attacks in Canada average a 10-day length of stay at a cost of $10,000 per stay.
"We are delighted to have GlaxoSmithKline and leading COPD research clinicians like Drs. Sin and Tan working with us in our COPD biomarkers program," says Dr. Bruce McManus, Director of the PROOF Centre. "Little progress has been made in battling this devastating disease and its impact on society and our health system continues to grow. The PROOF Centre aims to change that situation."
"With the PROOF Centre's approach of bringing together the critical partners from all sectors concurrently and early in the process, we hope to discover and develop better solutions faster, more effectively, and efficiently."
COPD is a disease without a cure, and exacerbations are extremely difficult to treat. There is currently no method to diagnose COPD in patients early in their course, and no way to predict exacerbation among COPD patients with robust reliability. Treatment for COPD patients is mainly about controlling or minimizing the impact of the symptoms and avoiding lung infections.
The discovery phase of the program is already underway, with researchers working to identify blood-based biomarkers – sets of expressed genes and proteins – that can be used to identify COPD patients at high risk of exacerbation. If successful, this information may help guide patient management and may be used to help facilitate the development of new therapies to better treat COPD. The PROOF Centre expects to have candidate biomarker sets identified by the end of 2011.
"We absolutely need new types of blood tests in COPD," says Dr. Don Sin, Canada Research Chair in COPD and Head of the Respiratory Division of St. Paul's Hospital. "We need these tools to help clinicians diagnose COPD more accurately and to identify exacerbations before they lead to hospitalizations, permanent lung damage and even death."
Click here for more information on COPD.
PROOF Centre turns its sights on a leading cause of hospital stays