The PROOF Centre is an independent, not-for-profit organization that develops high-value, biomarker-based multi-marker tests to enhance the assessment of risk, presence, progression and response to therapy for a variety of acute and chronic diseases.
The PROOF Centre has research programs to develop "omics" biomarker tests for a range of diseases, with core programs in cardiovascular disease, chronic obstructive pulmonary disease, and chronic kidney disease, and a multitude of collaborative projects in other disease areas, including muscular dystrophy, spinal cord injury, asthma and allergy, cystic fibrosis, vaccination, and diabetes. We also provide support and consultation services to academic and industry groups looking to develop biomarkers in their areas of interest.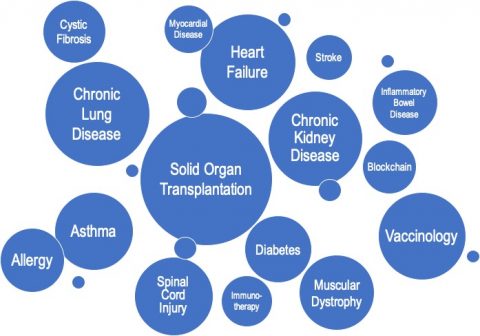 Each biomarker program begins with understanding patients and clinical needs. Blood tests are tailored to maximize patient benefit while reducing healthcare costs. Tools to accelerate and make more efficient drug discovery programs of the pharmaceutical industry are also front and centre. Working at the interface between data, technologies, human biology and end-users, the PROOF Centre brings research findings into real-world practical use.
An example of the process outlined above from our heart failure program is illustrated in the following infographic.