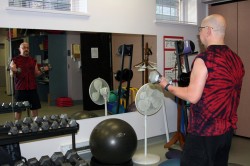 The last thing Cam Shuttleworth remembers doing before he lost consciousness was lying down on his bed to rest his aching shoulders. Dressed and ready to leave the house for another day at work, Cam was hoping for some much needed relief from the soreness that had been plaguing him for the last few days. He never made it to work that day. Five days later, he woke up on a hospital bed to what he describes as an endless nightmare. He had suffered a massive heart attack.
Not knowing that he was experiencing symptoms of a heart attack, Cam had mistook his shoulder aches for the residual pain he occasionally experiences from years of carrying heavy equipment as a videographer. An angiogram test later revealed that Cam's coronary arteries were completely blocked and had prevented his heart from receiving oxygen-rich blood, causing it to fail.
The damage to his failed heart was so extensive that Cam had to be treated with extracorporeal membrane oxygenation (ECMO), through a heart and lung machine. Taking the place of normal cardiac functions, the heart and lung machine removes carbon dioxide from the blood and replaces it with oxygen before sending the blood back in and around the body. Shortly after, a ventricular assist device (VAD) – a mechanical pump used to support heart function and blood flow in people who have weakened hearts – was implanted in Cam's heart while he was still in a coma. The implanted VAD was to serve as a bridge to a much-needed heart transplant that Cam had been put on a waiting list for.
Working his way out of a nightmare
With the support of his family, and the staff at St. Paul's Hospital, Cam eventually worked his way out of the nightmare. His wife, Trish, tirelessly cared for him as he recuperated and ensured that he stuck to a heart-healthy diet that was low in sodium, cholesterol and fat. Quickly but steadily, Cam replaced feelings of anxiety over his heart condition with a steely determination to live a healthier life; one that would be much kinder to his heart.
Alongside the efforts of his loving wife, Cam credits the Healthy Heart Program at St. Paul's Hospital for jump-starting his new lifestyle. Since having a VAD implanted, he has been participating in the program which provides heart patients like him with rehabilitation services such as risk factor evaluation and education, exercise prescription, nutrition counseling, smoking cessation, and stress and depression management.
Known as a model patient by his care team at St. Paul's Hospital, Cam quit smoking, started exercising and maintained his sensible eating habits. By the time he was due for a heart transplant six months after being on the VAD, he felt completely prepared for the procedure. His well-being also enabled him to recover from the transplantation quickly. Recalling his first thoughts after heart transplantation, Cam says, "I could feel my heart pounding. And for the first time in years, my feet were warm because blood was flowing through my body properly." He had never felt better.
Giving back to the heart community
With good health now well within his grasp, Cam expresses his gratitude by giving back to the heart community. Patient and nurse educators from the Heart Centre at St. Paul's Hospital often invite him to share his experience with other patients who are living with implanted VADs or who are considering VADs as a treatment option. Cam's gratitude also extends to the research community. He currently participates in key clinical programs working towards the development and commercialization of diagnostic tools to better manage patients with heart failure.
Being involved in the Acute Heart Failure program at the Centre of Excellence for the Prevention of Organ Failure (PROOF Centre) has Cam excited about the prospect of using simple blood tests to achieve more accurate prognoses for patients facing the possibility of ventricular assistance device. At the same time, Cam is looking forward to the day when his participation in the Biomarkers in Transplantation (BiT) program at the PROOF Centre will help implement similar blood tests to replace expensive and painful biopsies – the current method used to determine if a transplant recipient is experiencing rejection.
The BiT initiative has already successfully discovered several unique sets of genes and protein biomarkers that reflect ongoing organ rejection. More notably, the team has also identified biomarker sets that predict organ rejection before a transplant even occurs. These biomarkers will allow physicians to adjust their therapeutic approaches and patient-management strategies to ensure the most successful outcomes for each individual patient.
The identified biomarker sets are currently being validated in a clinical laboratory at St. Paul's Hospital before they will be integrated as predictive and diagnostic blood tests to be used as part of patient care. The PROOF Centre hopes to work with the BC and Canadian governments, as well as local and international health and industry partners to bring the tests to patients sooner. But for now, Cam will continue taking delight in his renewed vitality, which is letting him "raise a little hell" from time to time playing a mean bass guitar in an eighties tribute band.
Click here to read more on the Biomarkers in Transplantation (BiT) program at the PROOF Centre.
Click here to read more on the Heart Failure program at the PROOF Centre.
A Patients Thankfulness Forges the PROOF Centres Heart Biomarker Programs Ahead