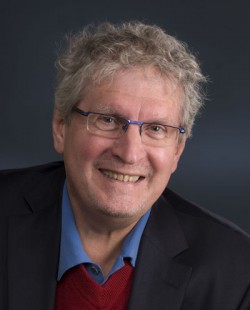 Director of the PROOF Centre Honoured by the Austin Doyle Oration and Medal
On September 25, 2011, Dr. Bruce McManus delivered the Austin Doyle Oration and received the related Austin Doyle Medal at the 21st National Conference of the Indian Society of Hypertension (BPCON 2011) in Annamalai University, Tamil Nadu, India. Dr. McManus' participation at BPCON 2011 occurred during the PROOF Centre's visit to India regarding several research and development partnerships related to blood-based molecular bio-signatures (biomarker panels). Partnerships between organizations in India, in both the public and private sector, and the PROOF Centre related to biomarker solutions for the massive suffering from heart, lung, and kidney failure were the focus of the delegation in Delhi, Hyderabad, and Chennai. Follow up visits are already planned on collaborative initiatives.
The Austin Doyle Oration is based on one of the dynamic personalities in the international community of hypertension researchers and clinicians. Among many distinctions, Dr. Doyle was the President of the International Society of Hypertension and his promotion of translational research in hypertension has been of immense importance to the global healthcare community.  As a native British citizen, and transplanted Aussie, Dr. Doyle had a profound impact on hypertension research, first in Australia, and ultimately worldwide.
At the Annamalai University campus, Dr. McManus contributed to the ongoing discussion regarding solutions to alleviate the burden of non-communicable disease, including cardiovascular disease, for which hypertension is both a major risk factor and a disease in its own right.  Speaking to an audience of leading researchers, clinicians, and policy-makers from India and around the world, he highlighted the steps that lead to blood pressure being one of the most trusted surrogate markers for regulatory agencies, and he showcased the immense potential of the blood-based biomarkers being developed and commercialized by the PROOF Centre to improve the care of heart, lung and kidney patients.
Such biomarkers will allow physicians to detect organ disease earlier, distinguish those who will develop organ disease from those who will not, and better identify response to disease management strategies in particular patients. With these biomarkers, physicians can, early-on, target those predicted to develop disease for intervention, and facilitate earlier intervention before irreversible organ damage is done. Just as important, the tests being developed will assist in the continuum of care by facilitating efficient care strategies that bridge between family physicians and specialists, among others.
Dr. McManus' leadership in pursuing research which utilizes modern molecular and computational tools to help create more specific preventive strategies and treatments are well-connected to the goals that Dr. Doyle embraced during his career.
Honoured by the Austin Doyle Oration and medal