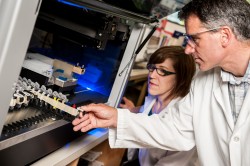 The PROOF Centre has granted HTG Molecular Diagnostics exclusive rights to commercialize PROOF Centre-developed gene expression blood tests for the prognosis of patients with Chronic Obstructive Pulmonary Disease (COPD) who will experience frequent exacerbations ("lung attacks").
The PROOF Centre – a not-for-profit organization focused on developing blood tests for chronic organ disease – has received C$1.5 million in funding from Genome British Columbia to develop the test from a promising set of biomarkers.
Under the agreement, HTG Molecular Diagnostics will develop the biomarker assay on its proprietary qNPA platform. Researchers from the PROOF Centre will stay involved in the clinical validation of the test, and will also support HTG's application for regulatory approval in the US after an initial commercial launch through PROOF in the middle of next year.
"The development of these blood tests has been driven by a huge unmet clinical and social need," says Dr. Bruce McManus, Director of the PROOF Centre. "This agreement with HTG Molecular Diagnostics will facilitate bringing these tests to market faster, providing physicians with tools to improve patient care and management and help alleviate suffering of patients with COPD."
Lung attacks are the leading cause of emergency room visits and hospitalizations among chronic disease sufferers, accounting for over $5.7 billion direct, and $6.7 billion indirect healthcare costs every year in Canada alone. A large portion of COPD-related mortality is due to lung attacks.
Currently, physicians have limited capabilities to predict which COPD patients will suffer frequent lung attacks, episodes that result in hospitalization and a reduced quality of life. The ability to identify these patients earlier will enable physicians to intervene sooner and better tailor treatment for the individual patient to prevent future lung attacks.
One Step Closer to the Clinic: PROOF Centre and HTG Molecular Diagnostics Partner to Commercialize COPD Test