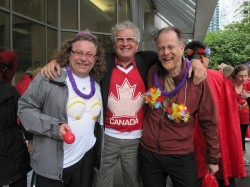 It was a pretty dreary evening, but the grey clouds that hung over the city did not dampen the spirits of the Pulse of St. Paul's team who were taking part in the Big Bike ride event organized by the Heart and Stroke Foundation. The Heart and Stroke Big Bike ride is a team event geared towards community organizations and groups where teams pedal through their community in support of heart disease and stroke research. The PROOF centre's director, Dr. Bruce McManus was one of the enthusiastic members of the Pulse of St. Paul's team who rode the Big Bike through downtown Vancouver. Dr. McManus has always been at the forefront of research geared towards improving care for patients with chronic diseases including heart disease. The team ride further showcased Dr. McManus and his colleagues' passion and support for finding new ways to heal and treat patients with heart disease.
Click
here
to contribute to the Heart & Stroke Foundation through the Pulse of St. Paul's team.
Dr. Bruce McManus rides the Big Bike!