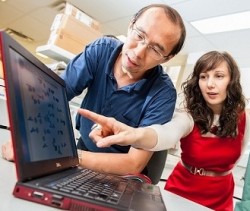 The PROOF Centre and IO Informatics are putting their heads together to develop new tools for clinicians to address chronic heart, lung and kidney disease.
The collaboration brings together the PROOF Centre's award-winning science and IO Informatics' leading software and semantic integration services to create a web-based software application for clinicians to use on hand-held devices or other technology.
Once developed, the application will provide clinicians with an overall score indicating patient risk level, along with the associated clinical recommendations to help guide clinical decision-making, and will be used alongside PROOF Centre-developed blood tests in chronic disease and transplantation.
The application will be based on a web-based reporting and alerting system accessible by clinicians securely through web browsers on workstations, laptops or standards-compliant mobile devices. The system itself will be populated with gene expression data, protein expression data, and longitudinal clinical observations.
"This collaborative project represents a major step forward to realizing the promise of biomarker-based screening for precision medicine and better healthcare at lower cost," said Dr. Bruce McManus, Director of the PROOF Centre. "By bringing together science and technology and applying it to a very real clinical need, we are creating a simple tool to help improve the care and management of patients with chronic heart, lung and kidney disease and ultimately reducing patient suffering and healthcare costs."
Heart, lung and kidney diseases together are an oppressive growing health burden in Canada and around the world. The rising costs associated with these health conditions are an enormous toll on an already over-burdened health system. New tools to allow for early intervention that will improve the efficiency of patient care and management, and lower health care costs are needed to help address the burden.
Technology at the Fingertips for Better Patient Care: The PROOF Centre and IO Informatics to Develop a Web-Based App