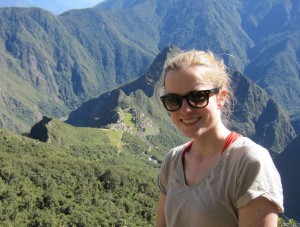 Seven years ago, Andrea Marrie unexpectedly became a heart transplant candidate when she was found teetering at the precipice of end stage heart failure. A healthy and vivacious young woman who was just twenty-two years old, nobody anticipated Andrea to go from experiencing flu-like symptoms to being in a state of cardiogenic shock in a span of twenty-four hours.
While she lay unconscious on a hospital bed with only a heart and lung machine standing between her and death, the cardiac team at St. Paul's Hospital quickly assessed Andrea for a heart transplant. Because a donor heart wasn't available, Dr. Anson Cheung, a cardiovascular surgeon at St. Paul's Hospital, wasted no time and implanted a left ventricular assist device (LVAD) in Andrea. The implanted mechanical pump would help her weakened heart to circulate blood throughout her body, keeping her alive until a heart transplant was possible.
For ten years, the Ventricular Assist Device (VAD) program at St. Paul's Hospital has kept the hearts of about eighty heart failure patients beating to recovery or until transplantation. Launched as part of the British Columbia (BC) Acute Heart Failure Program at St. Paul's Hospital in May 2002, the VAD program plays a significant role in providing a full range of specialized care to patients with critical heart failure. When potential heart transplant candidates like Andrea are at extreme risk of dying while waiting for a donor heart, the VAD program equips them with mechanical heart pumps to keep them alive until transplantation.
Andrea's heart function however, did not improve and continued to deteriorate after the LVAD was implanted in her chest. Within a day, she was back in the operating room, having another VAD implanted in the right side of her heart. Andrea's heart now relied on a biventricular assist device (BiVAD) to keep her alive.
Andrea spent five weeks at St. Paul's Hospital recovering and learning how to care for her BiVAD following the two surgeries. Despite the frightening ordeal she recently suffered, she was determined to make the most of her first summer as a fresh university graduate. She remembers spending time with her friends at the beach and even attending a concert, while having to carry around the portable driver that her BiVAD was attached to.
"The driver was like a piece of carry-on luggage that weighed about twenty pounds. It was tiring to lug around", says Andrea. "The driver and the side effects from the BiVAD, which included nausea and weight loss, as well as having the BiVAD constantly press against my stomach, were probably the biggest challenges I had to cope with," says Andrea.
As with Andrea, successfully implanted mechanical heart pumps can relieve the symptoms of critical heart failure and allow patients to live at home and return to work while they wait for a heart transplant. At the same time, VADs allow patients the opportunity to recover to a point where they can exercise and regain enough strength in order to undergo transplantation.
Amazingly, around 10% of patients with VAD implants are able to regain much of their heart's normal function and are able to have the device permanently removed without undergoing cardiac transplantation. Three and a half months after being implanted with the BiVAD, Andrea found herself joining this modest cohort of fortunate patients. Her heart had grown strong enough to be weaned off the mechanical pumps, and Andrea's BiVAD was removed after her echocardiogram heart test produced promising results. It has been six years since Andrea's ordeal and her heart continues beating strongly on its own.
To date, the BC Acute Heart Failure Program has proven to be a national leader in VAD implantation. Approximately eighty percent of the patients who pass through the VAD program have gone on to receive heart transplants, or are still living on the devices. A smaller part of this group, like Andrea, has recovered sufficiently to allow the explants of the mechanical heart pumps.
Not only has the VAD program at St. Paul's Hospital come a long way, but the devices themselves have also undergone dramatic improvement. These mechanical heart pumps have become more durable and smaller, making them easier to implant and more comfortable to live with.
"I suspect that by the time I retire, we will have VADs that are totally implantable beneath the skin. Already, I am hearing about VAD models where the batteries can be wirelessly charged. These VADs will be quicker to implant and more manageable for patients, compared to the older VADs that are also more prone to wear and tear", says Annemarie Kaan, a clinical nurse specialist at St. Paul's Hospital.
In parallel to the advancements made in VAD technology, a team from St. Paul's Hospital and the Centre of Excellence for the Prevention of Organ Failure (PROOF Centre) is developing blood tests to guide physicians in managing patients with acute heart failure. Researchers at the PROOF Centre are identifying biomarkers – signals found in genes and proteins – in the blood to determine which heart failure patients can be weaned from mechanical circulatory support without risk of future deterioration. The researchers are also discovering biomarkers to predict, prior to VAD implantation, which patients will respond to mechanical circulatory assistance, and which will require transplantation.
"The Acute Heart Failure program at the PROOF Centre will give us insights on which patients will benefit from the VAD and which ones won't," says Dr. Krish Ramanathan, Medical Director of the Cardiac Intensive Care Unit at St. Paul's Hospital.
"There is a huge potential for this program to provide information that physicians can use to help those with acute decompensated heart failure," adds the cardiologist who is also an investigator of the PROOF Centre's Acute Heart Failure (AHF) program. "Physicians will be able to predict outcomes better and will therefore be able to manage patients more effectively."
As an increasing number of heart failure patients turn to VAD implantation as a destination therapy due to the shortage of suitable heart donors, Dr. Ramanathan envisions that the PROOF Centre's AHF program will work in tandem with the VAD program at St. Paul's Hospital to provide much-needed critical care. "In time to come, I believe that the AHF program will complement the VAD program's mission to provide high-quality care to the sickest patients in cardiology".
Making excellent care for acute heart failure patients a priority through clinical innovation and research