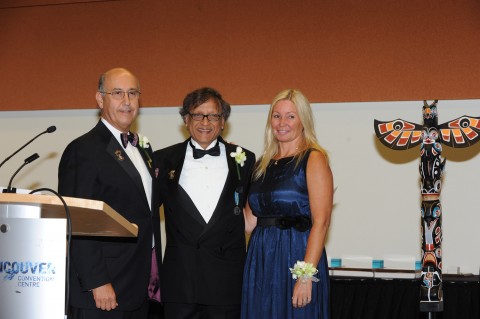 Dr. Arun Garg (centre), with Dr. Mark Schonfeld (left), CEO of BCMA, and Laura Rix (right), daughter of the late Dr. Don Rix, at the BCMA Annual Meeting.
Dr. Arun Garg, founder of the Canadian Physicians with Interest in South Asia and the Canada India Network Society (CINS), recently received the BC Medical Association's (BCMA) inaugural Dr. Don Rix Award for Physician Leadership. CINS is a collaborator in the PROOF Centre's Biomarker in Transplantation (BiT) program, and the PROOF Centre would like to congratulate Dr. Garg on his extraordinary achievement.
The BCMA award was established in memory of the late Dr Donald Rix and is for exemplary physician leadership that recognizes lifetime achievement and serves as an inspiration and a challenge to the medical profession in British Columbia. The award consists of a $2000 donation to a BC charity of the winner's choice, as well as a gold medal. Dr. Garg will be donating the BCMA award contribution, matching funds from his partners at Dr. CJ Coady Associates with a personal amount, to the Royal Columbian Hospital and Surrey Memorial Hospital foundations.
Dr. Garg is Medical Director for Fraser Health's Laboratory Medicine and Pathology Program. He is a Clinical Professor of Pathology in the Faculty of Medicine at the University of British Columbia. Dr. Garg is also a consultant Medical Director at BC Biomedical Laboratories. Outside of his clinical interests, he is a strong community leader and continues to employ his creativity and compassion to tackle health care issues locally and internationally.
"This recognition represents the communities which have nurtured and supported me for many years and my family and I are grateful for the opportunity to serve", says Dr. Garg.
The BCMA recognition follows a 2011 Award of Excellence in Medical Practice that Dr. Garg received from the Board of the College of Physicians and Surgeons of British Columbia. The College's Award of Excellence Program is an annual peer recognition program that honours individual physicians who have made an exceptional contribution to the practice of medicine in teaching, research, clinical practice, administration or health advocacy. Other criteria include character, integrity, and ethics beyond reproach, demonstrated leadership, and collegiality in all interactions with patients and colleagues.
BiT collaborator receives BCMA leadership award